April 2015 Denver Real Estate Market Statistics & Trends Report
for March 2015 MLS Statistics - Download the Press Release -

"Welcome to the 'Pac-Man Market' – where we navigate through a maze of very limited dots of new listings that are magically gobbled up as quickly as they appear on the market. Buyers run from listing to listing, trying to avoid being eaten by the competition. It's certainly a challenging task since buyers must also avoid being trapped in a corner where they feel desperate to write offers well above list price, or opt to waive inspection and appraisal contingencies in order to compete.
This narrative is becoming all too common as Denver's inventory tries to replenish itself in order to keep up with the very strong buyer demand. With the marketplace out of balance, some buyers and agents grow impatient playing this ever-changing game. However, there are still plenty of opportunities in this tough market, and the key to success is to remain positive and focused.
As we look at the month-over-month Detached Single Family Home market, we saw a 34.89% spike in new listings. The average sold price increased 3.19% to $398,576 and the median price increased 4.86% to $345,000. Our Attached Single Family Home (aka Condo) market also showed a healthy supply of new listings representing a 43.89% increase over the previous month while the average sold price increased 4.70% to $260,127. The median price increased 9.09% to $210,000. For the entire Residential market, new listings are up 37.33%; under contracts are up 28.05%; sold listings are up 28.46% and total sales volume was $3.3B representing a 13.12% increase over 2014.
Looking at the Year-to-Date number of Detached Single Family homes sold, the Market Trends Committee noticed that we've sold 10% less units under $500k but 34% more units above $500k. This demonstration of "the mix" (more units in higher price ranges selling than the lower range) most certainly affects the average price of sold units. Our conclusion is that the 14.61% increase is not necessarily as hot as it would appear so we'll continue to track and report on it throughout the year.
Just like the Pac-Man game, understanding Denver's real estate market means navigating through complex and challenging levels, and fortunately DMAR REALTORS® will always bring their highest & best game on every level and every transaction to protect the interests of the clients we serve."

- Anthony Rael, Chairman - Denver Metro Association of REALTORS Market Trends Committee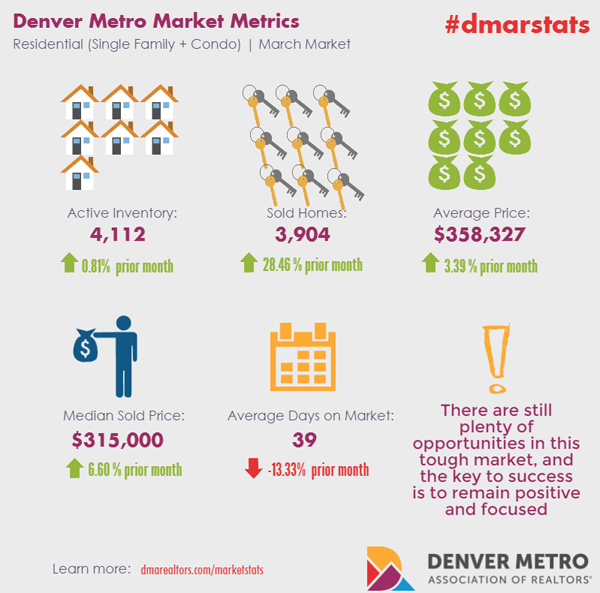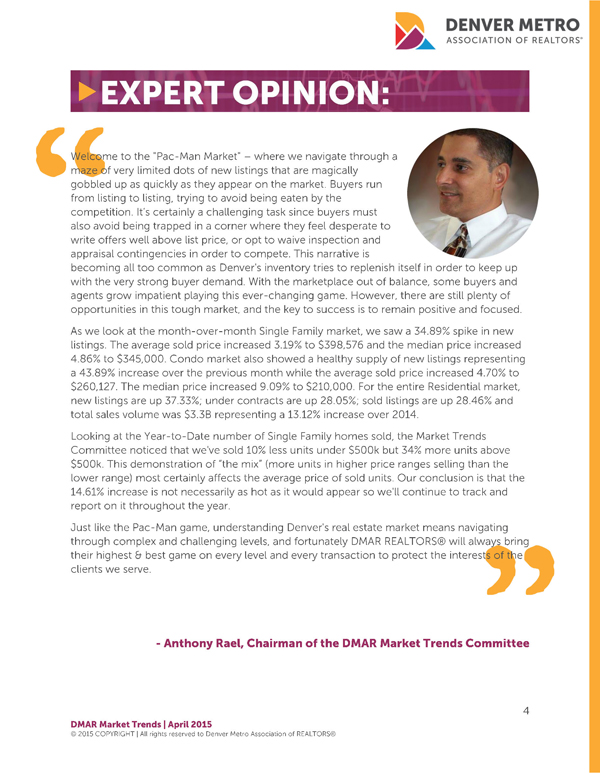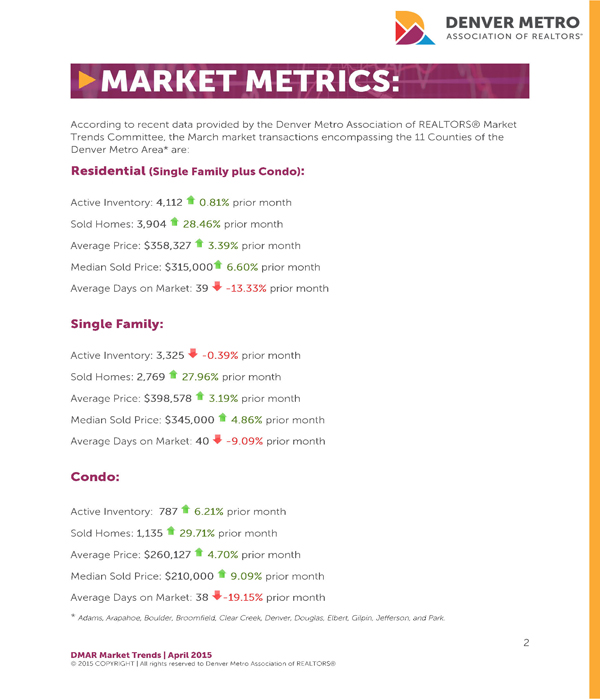 |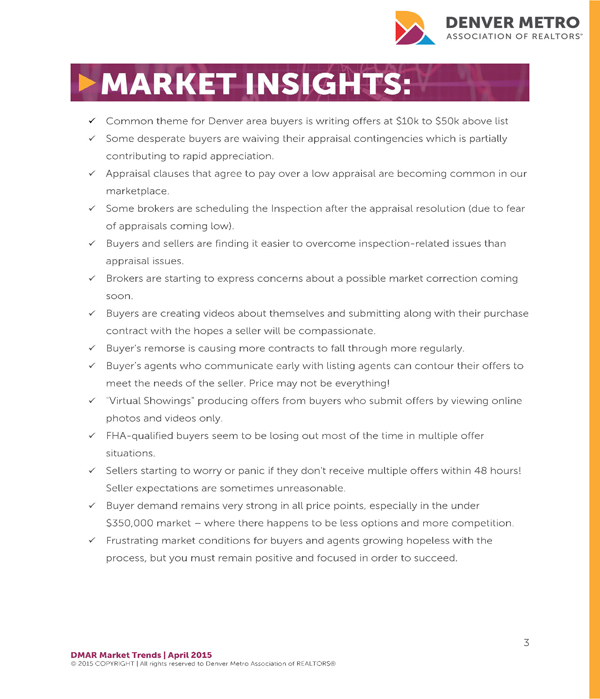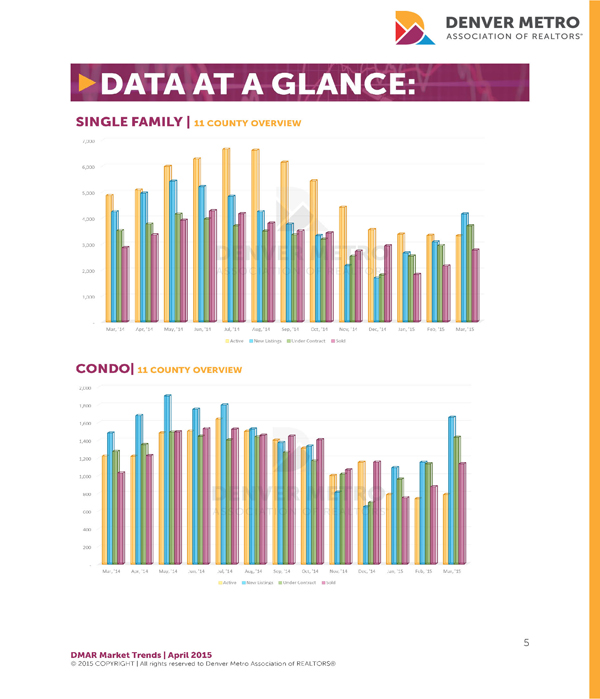 Download the Full Report & Press Release
DMAR Real Estate Market Trends Report - April 2015 -
DMAR April 2015 Market Trends Press Release -

Media Coverage
Denver Business Journal - "Metro Denver Home Supply Down 32% in March from Year Ago"
Denver Post - "Denver's Housing Market May Be Crazy, but it is Still Possible to Buy"
Denver Post - "Buyers snap up metro Denver homes in March's Pac-Man market"

Archived Denver Real Estate Market Trends Monthly Reports
March 2015 - Denver Real Estate Market Trends Report
February 2015 - Denver Real Estate Market Trends Report
January 2015 - Denver Real Estate Market Trends Report
December 2014 - Denver Real Estate Market Trends Report
November 2014 - Denver Real Estate Market Trends Report
October 2014 - Denver Real Estate Market Trends Report
September 2014 - Denver Real Estate Market Trends Report
August 2014 - Denver Real Estate Market Trends Report
July 2014 - 11-Denver Real Estate Market Trends Report
June 2014 - Denver Real Estate Market Trends Report
May 2014 - Denver Real Estate Market Trends Report


NOTES:
Interview requests from the media should be directed to DMAR's Marketing Communications at (303) 300-8490
MLS stats are tracked in arears, so the published report is for the previous month-end activity
The DMAR 'Premier Market' is defined as $500,000 to $749,999
The DMAR 'Signature Market' is defined as $750,000 to $999,999
The DMAR 'Luxury Market' is defined as $1,000,000 and over
11-Counties: Adams, Arapahoe, Boulder, Broomfield, Clear Creek, Denver, Douglas, Elbert, Gilpin, Jefferson & Park
Research: Denver Metro Association of REALTORS® Market Trends Committee
Source of MLS Data: REColorado.com

Glossary of Terms for Real Estate Stats
What is Median Sale Price?
What are Active Listings?
What are New Listings?
What are Sold Listings?
What is Pending/Under Contract?
What are Days on Market?
What is the Affordable Housing Index?
What are Months Supply of Listings?

[ RETURN TO MARKET TRENDS HOME ]
[ Investing in Denver Real Estate ]