March 2015 Denver Real Estate Market Statistics & Trends Report
for February 2015 MLS Statistics - Download the Press Release -

"May you live in interesting times (Chinese proverb) certainly rings true for the current Greater Denver-area real estate market. While February experienced record-breaking amounts of snow (surpassing a 103-year-old mark) the number of active listings inched its way to a new unprecedented low of 4,079 properties. But the news is not all bad because February also ushered in a healthy dose of 4,240 new residential listings (single family and condos) which represented a 12.98% increase. Sold listings are up 4.02% and the median and average sales prices creeped up 3.96% and 5.44% respectively from the previous month. The frigid cold temps did not deter buyers from writing offers as evidenced by the 16.42% spike in properties that went under contract.
As we look at the single family home market, we saw a 15.97% spike in new listings while the average sold price increased 5.13% to $390,087 and the median price increased 2.81% to $329,000. Year-over-year (YoY), we've seen 19.30% and 17.50% increases in the average and median sales price. The condo market remains strong with 4.56% more sales than the previous month, while the average and median sales prices increased 6.99% to $246,847 and 2.70% to $190,000 respectively. Year-over-year (YoY) condo sales prices continue their upward trend with double-digit gains that pushed the average price up 14.87% and the median price up 11.83%.
Now is the time for DMAR members to educate sellers, buyers and renters on home values and the impact of the home market on the economy. As year-over-year housing prices continue to increase, home affordability is going to become a greater issue as the entry-point for first-time buyers grows higher and higher. The continuation of a strong job market in Colorado will hopefully offset the drag from an expected increase in mortgage rates this summer.
Disruption is unavoidable in real estate – satisfaction, inefficiencies and profitability challenges await. Embrace the consumer and take great pains to exceed their expectations. As Elliott Eisenberg, Ph.D said at DMAR's Economic Impact event, "The Denver-area real estate market and economy are among the strongest in the nation and if you can't make it here, you can't make it anywhere!" I would encourage my fellow DMAR REALTORS to keep consistency in the forefront. Innovate. Meet consumer needs. Master your craft. Raise the bar."

- Anthony Rael, Chairman - Denver Metro Association of REALTORS Market Trends Committee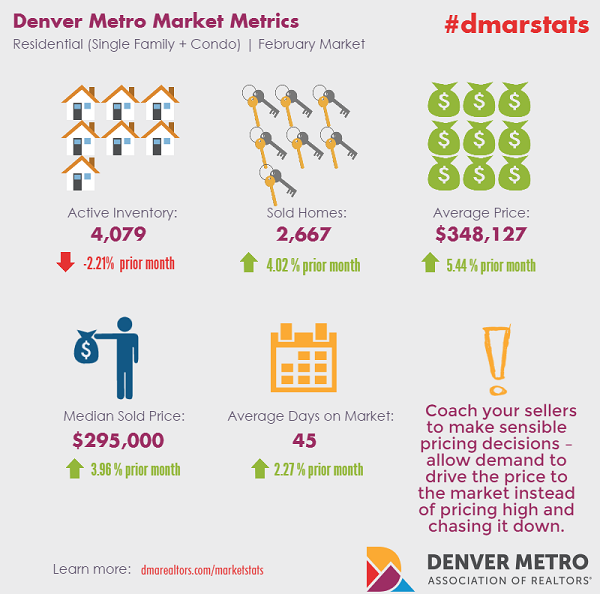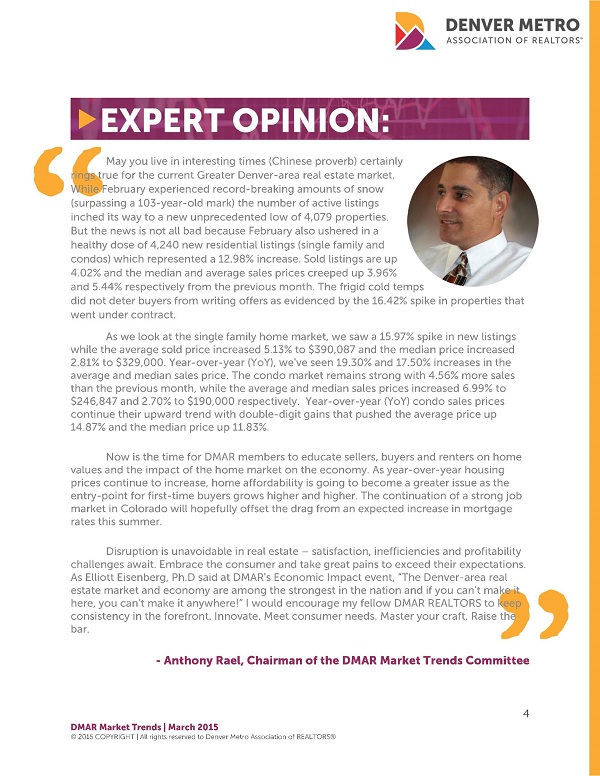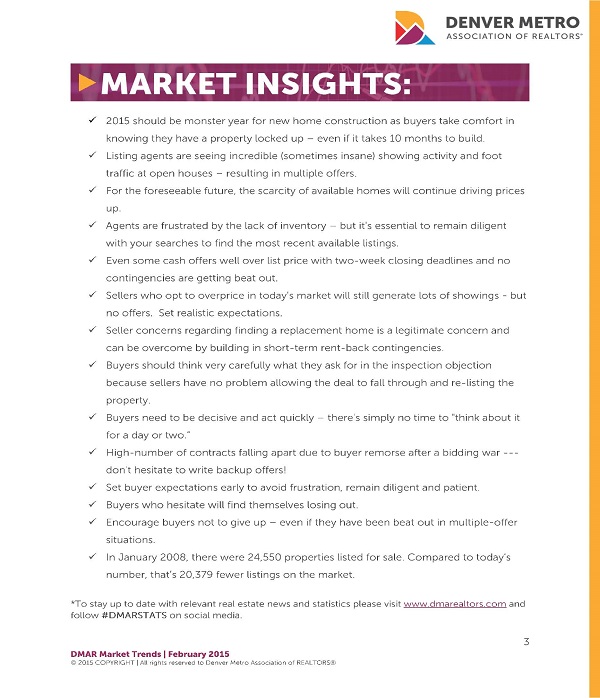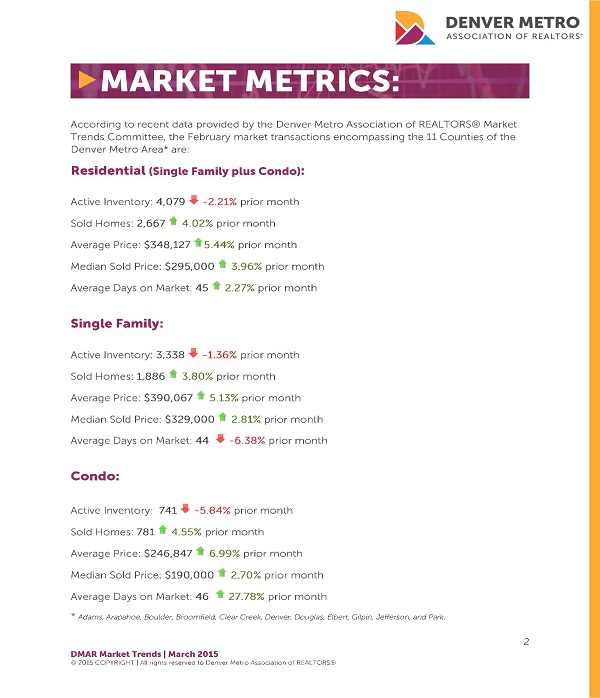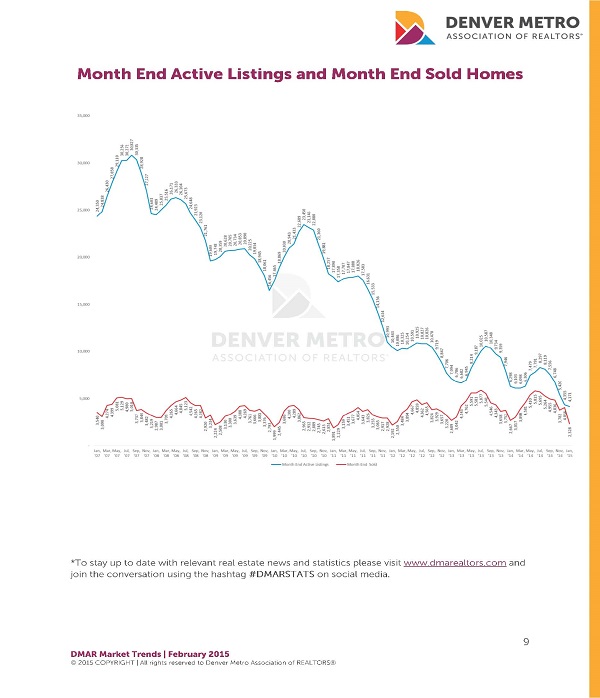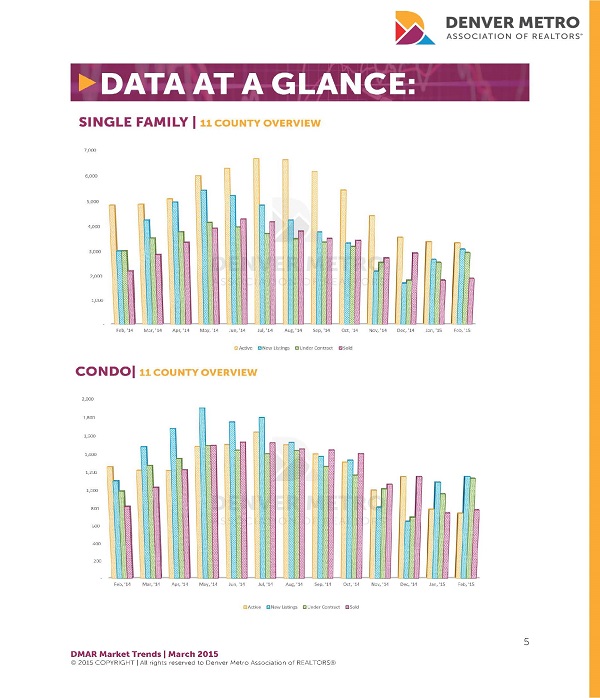 Download the Full Report & Press Release
DMAR Real Estate Market Trends Report - March 2015 -
DMAR March 2015 Market Trends Press Release -

Archived Denver Real Estate Market Trends Monthly Reports
May 2015 - Denver Real Estate Market Trends Report
April 2015 - Denver Real Estate Market Trends Report
March 2015 - Denver Real Estate Market Trends Report
February 2015 - Denver Real Estate Market Trends Report
January 2015 - Denver Real Estate Market Trends Report
December 2014 - Denver Real Estate Market Trends Report
November 2014 - Denver Real Estate Market Trends Report
October 2014 - Denver Real Estate Market Trends Report
September 2014 - Denver Real Estate Market Trends Report
August 2014 - Denver Real Estate Market Trends Report
July 2014 - 11-Denver Real Estate Market Trends Report
June 2014 - Denver Real Estate Market Trends Report
May 2014 - Denver Real Estate Market Trends Report


NOTES:
Interview requests from the media should be directed to DMAR's Marketing Communications at (303) 300-8490
MLS stats are tracked in arears, so the published report is for the previous month-end activity
The DMAR 'Premier Market' is defined as $500,000 to $749,999
The DMAR 'Signature Market' is defined as $750,000 to $999,999
The DMAR 'Luxury Market' is defined as $1,000,000 and over
11-Counties: Adams, Arapahoe, Boulder, Broomfield, Clear Creek, Denver, Douglas, Elbert, Gilpin, Jefferson & Park
Research: Denver Metro Association of REALTORS® Market Trends Committee
Source of MLS Data: REColorado.com

Glossary of Terms for Real Estate Stats
What is Median Sale Price?
What are Active Listings?
What are New Listings?
What are Sold Listings?
What is Pending/Under Contract?
What are Days on Market?
What is the Affordable Housing Index?
What are Months Supply of Listings?

[ RETURN TO MARKET TRENDS HOME ]
[ Investing in Denver Real Estate ]