How's the Denver Real Estate Market?
Month-end Inventory, Average & Median Sales Prices, Days on Market (DOM), Price Appreciation, Sales Volume & More!
by Anthony Rael on Google+
Anthony Rael recently served as Chairman of the Denver Real Estate Market Trends Committee on behalf of the Denver Metro Association of REALTORS® (DMAR) - an organization comprised of over 7,000 real estate professionals for the past 2.5 years. DMAR provides timely, consistent and relevant market statistics reports for fellow REALTOR members as well as local, regional and national media outlets as well as helping educate the general public on current market conditions. Anthony Rael also served as a media spokesman for the Denver Region on behalf of the Colorado Association of Realtors (CAR). CAR publishes Denver Metro Region Housing Reports as well as Colorado Statewide Housing Statistics & Trends Reports.
If you want to speak to an housing expert in the Denver Real Estate Market - I've got you covered. Contact Anthony Rael at 303-520-3179 anytime. Have a blessed day!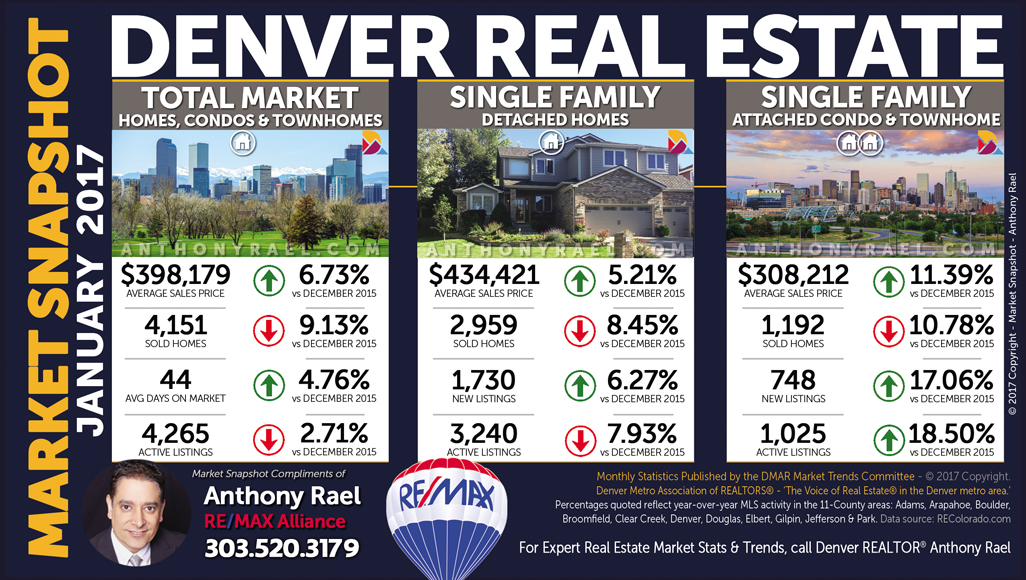 Click here for the most recent Denver Real Estate Market Snapshot Infographics from Anthony Rael, Denver REMAX Realtor
Glossary of Terms for Real Estate Stats
What is Median Sale Price?
What are Active Listings?
What are New Listings?
What are Sold Listings?
What is Pending/Under Contract?
What are Days on Market?
What is the Affordable Housing Index?
What are Months Supply of Listings?