RE/MAX Alliance has been involved with Real Estate Brokerage since 1978. Built upon the philosophies of service, integrity and teamwork, our success is best seen in our more than 800 associates and 80+ support staff in 23 RE/MAX Alliance office locations throughout Colorado + my network of 135,000+ RE/MAX agents in more than 100 countries and territories. We continually strive to create a company that people are proud to be associated with. Our outstanding reputation for service is key to being a market leader. At RE/MAX Alliance we believe that exceeding the needs of the people who choose to do business with us is of utmost importance. This is why a large portion of our business comes from satisfied repeat customers. We're currently seeking quality agents to join our Global Referral Exchange. Have real estate questions? 'Call Ants'

Colorado's largest locally owned real estate organization

is #1 in Denver Business Journal's Book of Lists five consecutive years!

Over 800 real estate professionals

The 24th largest real estate brokerage in the United States according to Real Trends and RISMedia

Does $3 Billion(+) in real estate sales annually

23 Offices located along the Front Range of Colorado from Fort Collins to Castle Rock, Aurora to Evergreen

One of the most recognized & respected real estate brokerage firms throughout Colorado & nationally


RE/MAX Alliance has been a major force in the real estate industry since our founding. Our company has grown through the years and continues to grow today in this ever changing industry.


RE/MAX Alliance strongly believes in providing our clients with reliable customer service and this philosophy has earned us the reputation of being the best in the real estate industry.


RE/MAX Alliance is proud to offer top-notch home buying, selling and relocation services for all of our clients. We have developed an edge against our competitors by offering well-developed, strategic programs that accelerate our clients, both buyers and sellers, to the top of the market.


RE/MAX Alliance has grown to be industry leaders in our area, serving the entire Front Range of Colorado. With offices located in Arvada, Aurora, Boulder, Broomfield, Castle Rock, Conifer, Denver, Evergreen, Fort Collins, Greeley, Longmont, Louisville, Loveland, Nederland, Parker, Westminster, and Windsor, we've got you covered in Colorado! Whether you are moving across the street or across the country we are here to help. Anthony Rael, Broker Associate with RE/MAX Alliance is available to serve you with all your real estate needs. You can reach Anthony at 303.520.3179

Anthony Rael's Awards & Credentials:
RE/MAX Platinum Club - (2021)
RE/MAX 100% Club - (2020)
RE/MAX 100% Club - (2019)
RE/MAX 100% Club - (2018)
RE/MAX Platinum Club - (2017)
RE/MAX 100% Club - (2016)
RE/MAX 100% Club - (2015)
RE/MAX 100% Club - (2014)
RE/MAX 100% Club - (2013)
RE/MAX 100% Club - (2012)
Certified Negotiation Expert (CNE)
Seniors Real Estate Specialist (SRES)
Board of Directors - Denver Metro Association of REALTORS® - (2011-2012)
Board of Directors - Jefferson County Association of REALTORS® - (2009-2011)
Multi-year recipient of the Denver Metro Association of REALTORS® Chairman's Distinguished Service Award
Past Chair, Denver Real Estate Market Trends Committee for the Denver Metro Association of REALTORS®
Media Spokesperson, CAR Real Estate Market Updates for the Colorado Association of REALTORS®
Member, Professional Standards Committee Denver Metro Association of REALTORS®
Member, Grievance Committee Denver Metro Association of REALTORS®
Member, Denver Metro Association of REALTORS® (DMAR)
Member, Colorado Association of REALTORS® (CAR)
Member, National Association of REALTORS® (NAR)
Supports the REALTOR® Code of Ethics & Standards of Practice
RE/MAX 'Hall of Fame' Recipient in 2016
Multi-year recipient of RE/MAX's Platinum Club and 100% Club Awards
Multi-year recipient of Denver Metro Association of REALTORS® Excellence Awards
Proud to be one of 140,000+ RE/MAX Real Estate Agents & Realtors Worldwide
Trusted "go-to" resource for local, regional and national media outlets
Expert insights and analysis featured in the Denver Post, Denver Business Journal, Kipplinger's Money Magazine,
Forbes Magazine, MSN Money, 5280 Magazine, 9NEWS, 7NEWS and CBS4 NEWS in Denver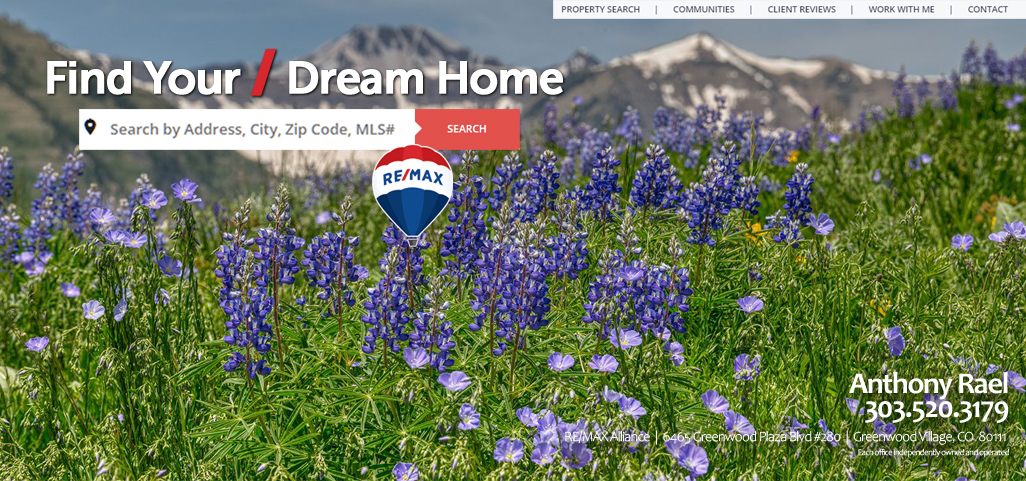 RE/MAX Alliance Real Estate Agent/Realtor Anthony Rael
Anthony Rael is an experienced and dedicated Colorado real estate professional who understands the nuances of navigating through complex residential real estate transactions to achieve the best possible outcome. As a small business owner affiliated with the RE/MAX brand, I appreciate the value expected of me in order to positively impact the people and communities I serve. Simply put, my success is built on your success. My investment in partners such as mortgage lenders, title companies, inspectors, contractors, photographers combined with ongoing annual training regimen specifically designed to keep my skills sharp in order to guarantee a level of personalized service and demonstrate my commitment to you. From the first time we meet and long after the transaction is closed, I will always be here for you.

I am committed to giving my all by engaging my mind, heart and soul. I refuse to be outworked by anyone and as a Certified Negotiation Expert - have the communication skills necessary to achieve the financial result you demand from a top-producing real estate agent. I offer technology, product solutions and individualized advisory services that are distinct from many others in the marketplace. By offering a high-degree of personal accountability, integrity, technical/marketing expertise and a sincere passion for delivering outstanding real estate services, you'll never have to worry about finger-pointing because the buck stops with me. I work with humility for the good of my clients, community, and fellow agents. Lastly, I am committed to transparency and authenticity. While being respectful, you can count on me speak openly, honestly and directly at all times with the understanding that differing opinions breed the best possible outcomes. This is how trust and reputations are built and I take a a great deal of pride in this approach.
The Children's Miracle Network is an international non-profit organization dedicated to helping children by raising funds and awareness for 170 children's hospitals throughout North America. Each year these non–profit hospitals treat more than 14 million children afflicted with diseases, injuries and birth defects of every kind. Children's Miracle Network's founding pledge to put children first in all it does and keep 100 percent of donations in the community where they were raised remains at the core of its philosophy.

RE/MAX Alliance is thrilled to announce that the 16th Annual REMAX Alliance Children's Miracle Network Charity Golf Tournament raised over $62,000 for Children's Hospital. The golf tournament consistently raises more money in the Mountain States region than any other charity golf event for Children's Miracle Network. Denver and the entire Rocky Mountain region is blessed to have Children's Hospital, one of the premier hospitals in the world. For more information on how you can support the hospital and Children's Miracle Network, please visit www.alliancegolfforkids.com.


The Susan G. Komen Race for the Cure in Denver is now the 2nd largest Race for the Cure in the country! RE/MAX International announced in 2002 that they will be a national co-sponsor of the Race. This year over 60,000 participated in the Denver race and REMAX Alliance associates were proudly carrying a banner with names of associates, friends, and family members that have been affected by Breast Cancer in some way. Margaret Kelly, the president and CEO of RE/MAX International, spoke at the Survivor's breakfast
Anthony Rael & RE/MAX Founder/CEO Dave Liniger
on the set of "60 Minutes with Dave" - Oct 2011








[ CLICK THUMBNAIL PHOTOS TO VIEW LARGER IMAGES ]
I encourage potential buyers & sellers to read some recent Client Reviews for Anthony Rael to get a feel for my work ethic. My services are backed by my 100% satisfaction guarantee! For expert real estate advice & counseling, contact me at (303) 520-3179.