6 Myths of Buying a Home
There are tremendous values to owning a home! But as you venture out to into the unknown world of real estate, I would like to caution you about a few things so you can put your emotions aside and empower yourself to think clearly and make educated decision regarding the biggest financial decision you'll make in your lifetime.
Below are a few "myths" to keep in mind (especially you first-timers or property virgins)"
"The Perfect Home"
I don't want to burst your bubble...but, it doesn't exist! I show approximately 600 homes to prospective buyers each year and I can tell you first-hand that 90% are so fixated on finding the "perfect home" that they end up missing out on wonderful properties that would have otherwise met most of their needs. Your most likely not going to live in the property for the rest of your life, so I suggest that you focus on finding the best house, at the best price in the best neighborhood you can afford.

"The Value of a Home Will Increase"
There was a time over the past few decades where the average value of a home doubled every 10 years! If you have been fortunate to time the real estate market to make this a reality - kudos to you! After the mortgage and real estate meltdown in 2008, I simply do not see how we'll ever repeat this in the future. Homes will continue to appreciate at a reasonable rate over time, but double-digit appreciation rates across the country are a thing of the past (in my opinion). Of course all real estate is LOCAL and the circumstances surrounding each parcel of property can vary greatly from city to city and state to state.

"I'll Save Thousands by Buying a Short Sale"
That may have been the case a few years ago, but banks are starting to rethink their pricing strategies. These days, banks and investors are looking to get "fair market value" just like a traditional seller would. You'll have to decide if its worth waiting several months to buy a short sale or just pursue the house down the street that's already priced right for the area. You might end up paying the same amount when the dust settles.

"Low-ball Offers"
Nobody appreciates a smokin' deal more than me! However, when it comes to real estate, unless you're an investor with cash, it is very rare to "steal" a property from a normal seller unless they have it so over-priced to begin with and you're able to negotiate the price $10-$30,000 (or more) off the list price. Keep in mind though, negotiating a low-ball offer on an over-priced listing is not a "steal" - you're simply agreeing to pay fair market value. Some buyers think if they pay fair market value that somehow they didn't get a good deal and that's simply not true. Many factors go into successfully negotiating the price & terms.

"Buying As Much House As You Can Afford"
In the mid-to-late 90's it seemed as if buyers unilaterally decided to buy as much house as they could afford. In many cases, buyers were opting for "Mc-Mansions" (homes that were too big for their needs). In recent years (especially after the mortgage and real estate meltdown in 2008), buyers have begun to realize that they could be perfectly happy with a home that allows them to live comfortably and not excessively. It's also much easier on the pocketbook.

"MLS Listing Information is Always Right "
Have you ever heard the term call "GIGO"? It stands for garbage in - garbage out. It means the data is only as good or accurate as the person who input it and the MLS is no different. Agent or their assistants are sometimes rushed and input the wrong # of bedrooms, bathrooms, square footage and/or leave out features. I encourage my buyers no to discard a property simply because what is shown on the internet MLS listing page. You could be passing up a great home!


Home Buyer's Guide |

Home Seller's Guide
Buy a Home | Find Your Dream Home | Pre-Qualifying for a Mortgage | Home Mortgage Loans
Homesnap App | First-Time Homebuyers | Relocation to Denver Colorado | Where to Live in Denver
Reliable Contractors | Honest & Trustworthy Advice | Community Resources | Active & Sold Listing Virtual Tours
Invest in Denver Real Estate | Sell a Home | Property Values | Denver Real Estate Market Reports
Colorado Realtor Reviews | Meet Anthony Rael | 'Just Call Ants' | Home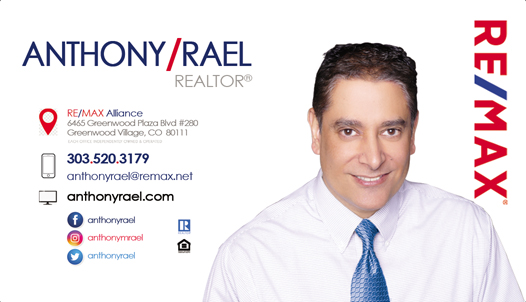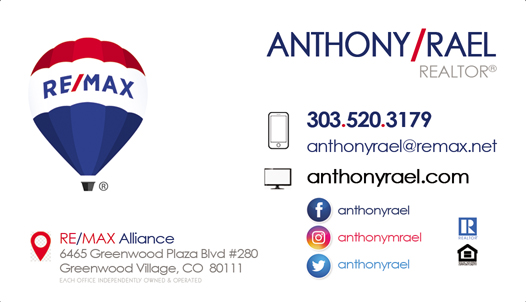 / RESIDENTIAL REAL ESTATE / NEW HOME CONSTRUCTION / RELOCATION / FIRST-TIME BUYERS / INVESTMENT PROPERTIES /




© 2005-2023 ▪ ANTHONYRAEL.COM | ALL RIGHTS RESERVED | PRIVACY | SITEMAP | HOME

Anthony Rael | REMAX Alliance - DTC | 6465 Greenwood Plaza Blvd #280 | Greenwood Village, CO 80111 | 303.520.3179
Licensed Colorado Real Estate Agent | Certified Negotiation Expert (CNE) | Seniors Real Estate Specialist (SRES)
AnthonyRael.REALTOR | HomesInColorado.info | SearchHomesInDenver.com | HomesForSaleDenverColorado.com

REMAX | RE/MAX, LLC | RE/MAX Rocky Mountain | RE/MAX Alliance | REMAX.com