THANK/YOU
In appreciation and respect to the dedicated heroes who sacrifice so much of themselves for the greater good of our communities, I would like to extend a cash rebate up to $1,000 at closing from me and my family to you and yours when purchasing and/or selling a property with me anywhere in the greater Denver Metro area between November 1st - December 31st.
If you or someone you know is a Teacher (Pre-K, elementary, secondary and post-secondary); Active military, reserves or Veteran (including surviving spouses) of the United States Army, Navy, Air Force, Marine Corps and Coast Guard; Police Officer / Law Enforcement; Firefighter; Paramedic; EMT; Nurses, Doctors and other healthcare professionals, please feel free to share this page so they can take advantage of the savings. Housing prices in our market have soared in recent years so every little bit helps! This cash rebate can be used towards a down payment, closing costs, loan pre-paids, home improvement or whatever you desire. On behalf of my family, thank you!
BIGGER/DISCOUNTS?
While you can shop around and find other Hero Discount Programs (such as homes for heroes, hometown heroes, community heroes), they don't always connect you with the most qualified real estate agents in the marketplace. It's not their fault, it's the way their systems are set up. For example, any real estate agent with little or no experience can simply pay a membership fee to an organization and buy their way into their program. My proprietary hero discount program was created to organically reach real heroes who live, work and play in my community or heroes who are moving to the area and place value in connecting with an honest and trustworthy RE/MAX agent who is not only a Denver Colorado native, but is also a consistent top-producer who works tirelessly each day advocating on your behalf to achieve the best possible outcome. If experience and having someone looking out for your best interests is appealing, 'Just Call Ants' at 303.520.3179
WHY/DISCOUNTS?
I am blessed to be surrounded by LOCAL/HEROES. My daughter is a teacher + my parents, grandparents, cousins, nieces, nephews and an abundance of friends either currently serve or have served as veterans, firefighters. police officers, paramedics, EMTs, first-responders, teachers, doctors & nurses. Providing a discount is my way of saying thank you to those who sacrifice themselves for the greater good of our community. On behalf of my entire family, thank you.
OTHER/DISCOUNTS?
As a seasoned professional, I surround myself with the best of the best and they offer discounts as well. This includes mortgage lenders, home inspectors, home warranty companies and other ancillary contractors who value your contribution to make our communities stronger. A few examples include: complimentary appraisal or home warranty; coupons towards radon mitigation installations and home inspectors + many other cost-saving programs.
WHERE/DO I SIGNUP?
There's no need to sign up with a third-party affiliation, join a club or fill out any online forms proving eligibility. I won't ask you to provide proof of your contribution to our community - as far as I'm concerned - your word is your bond. Simply call or text Ants at 303.520.3179 and mention promotional code 'LOCAL/HERO' upon our initial introduction - it's really that simple. No gimmicks, fine print or hidden terms. This is the only way I can track the effectiveness of this market effort. My offer will be memorialized in writing immediately so it's absolutely crystal clear. If you decide to hire me to represent your best interests in a real estate transaction, I will add a note to our listing contract (in writing) so there's no question what you are receiving. By simply mentioning the promo code, you will receive $500 cash at closing towards the purchase of a new property or $500 cash towards the sale of an existing property. If you end up buying and selling during the same timeframe, you'll receive a total cash rebate at closing of $1000. Offer cannot be combined with any other promotional discount or credit.

BUYING OR SELLING/OUTSIDE THE DENVER AREA?
I'm affiliated with RE/MAX - the #1 Real Estate Franchise in the World - and "nobody in the world sells more than RE/MAX". This literally means I can connected you with a fellow RE/MAX Agent anywhere in the world. That being said, it's more more likely that an agent in the U.S. who shares my personal values and outlook towards our local heroes and will work with me to ensure you get the same discount I am offering. Rest-assured, you will have the final say-so in choosing an agent that you feel comfortable with so don't worry about being stuck with someone you don't like.
ESSENTIAL/WORKERS
Yes...that means you too! I have extended my 'local heroes' discount to each and every frontline employee who was deemed 'essential to the community' during the worldwide pandemic. Simply call or text Ants at 303.520.3179 and mention promotional code 'IM/ESSENTIAL' upon our initial introduction - it's really that simple. As thanks to you for weathering the storm; putting up with some obnoxious people and risking your health for the greater good of keeping our economy going, every essential frontline hero who purchases or sells a home with with me is eligible. My offer is extended to grocery store clerks, stockers, delivery drivers, restaurant employees and anyone else who put it on the line for the rest of us. On behalf of my family, thank you.
GETTING/STARTED
If you would like to work with an honest, trustworthy & professional REALTOR® who will provide expert local real estate advice & counseling, contact 5-Star rated Denver REALTOR® and top-producing RE/MAX Alliance real estate agent - Anthony Rael at 303.520.3179. Need to get pre-qualified for a home loan? Anthony works with the best mortgage professionals in the business to ensure you get the best mortgage loan with the best terms! Click here for home loan options. RE/MAX Alliance has 20 offices in Colorado and my RE/MAX network has more than 140,000 agents in 100+ countries, so when you're looking to buy or sell a property just about anywhere in the world, 'Call Ants'.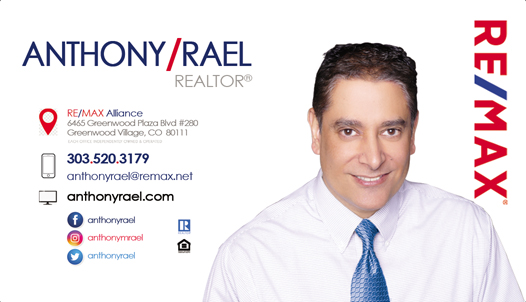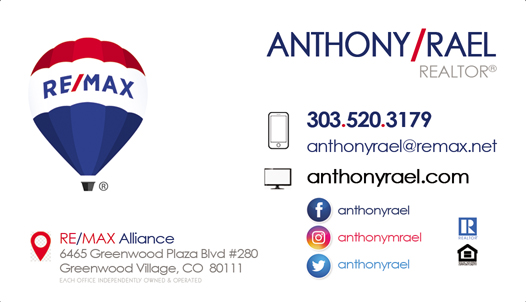 Home Buyer's Guide |

Home Seller's Guide
Buy a Home | Find Your Dream Home | Pre-Qualifying for a Mortgage | Home Mortgage Loans
Homesnap App | First-Time Homebuyers | Relocation to Denver Colorado | Where to Live in Denver
Reliable Contractors | Honest & Trustworthy Advice | Community Resources | Active & Sold Listing Virtual Tours
Invest in Denver Real Estate | Sell a Home | Property Values | Denver Real Estate Market Reports | American Lifestyle
Colorado Realtor Reviews | Meet Anthony Rael | 'Just Call Ants' | Home
/ RESIDENTIAL REAL ESTATE / NEW HOME CONSTRUCTION / RELOCATION / FIRST-TIME BUYERS / INVESTMENT PROPERTIES /




© 2005-2023 ▪ ANTHONYRAEL.COM | ALL RIGHTS RESERVED | PRIVACY | SITEMAP | HOME

Anthony Rael | REMAX Alliance - DTC | 6465 Greenwood Plaza Blvd #280 | Greenwood Village, CO 80111 | 303.520.3179
AnthonyRael.REALTOR | HomesInColorado.info | SearchHomesInDenver.com | HomesForSaleDenverColorado.com

REMAX | RE/MAX, LLC | RE/MAX Rocky Mountain | RE/MAX Alliance | REMAX.com