I would like to personally thank ALL of our Service Members, Veterans and eligible surviving spouses for your sacrifice to our country! I'm always grateful for the opportunity to help military families buy & sell homes in the Denver Metropolitan area. I work with retired military buyers and sellers & assist military families who are relocating or transitioning from active-service to various civilian employment with defense contractors such as Lockheed Martin, General Dynamics, Northrop Grumman, Boeing & Raytheon. I consider it an honor and a privilege to provide expert, professional real estate services to military families and I look forward to help you buy or sell a home. Anthony Rael, your VA Military-friendly Realtor with RE/MAX Alliance - 303-520-3179
As an experienced VA/Military-friendly Denver Realtor with RE/MAX, I am fortunate to recommend local VA Mortgage Lenders who understand the VA mortgage loan process and will work hard to secure the best VA loan possible. Since VA guarantees a portion of the loan, this enables the mortgage lender to provide you with more favorable terms (saving you thousands of dollars!).
Get Pre-Qualified for a VA Home Loan Today!
Preferred VA Mortgage Lenders for Anthony Rael, RE/MAX Alliance - Denver Realtor
* Caliber Home Loans - Tiffany Swisher @ 303.884.4137
* Home Mortgage Advisors - Deana Hollstein @ 303.818.0522
* Nexa Mortgage - Lainie Chambers @ 720.495.2788

What is a VA Guaranteed Home Loan?
VA guaranteed loans are made by private lenders, such as banks, savings & loans, or mortgage companies to eligible veterans for the purchase of a home which must be for their own personal occupancy. The guaranty means the lender is protected against loss if you fail to repay the loan. The guaranty replaces the protection the lender normally receives by requiring a down payment allowing you to obtain favorable financing terms.
VA Loan vs. Traditional Mortgages
Military homebuyers have access to one of the most unique and powerful loan programs ever created. See how the VA Loan compares to a traditional home mortgage:
VA Loans
Conventional Loans
0% Down
(for qualified borrowers)

VA Loans are among the last 0% down home loans available on the market today.

Up to 20% Down

Conventional loans generally require down payments that can reach up to 20% to secure a home loan, pushing them out of reach for many homebuyers.

No PMI

Since VA Loans are government backed, banks do not require you to buy Private Mortgage Insurance (PMI).

PMI Required

Private Mortgage Insurance is a requirement for borrowers who finance more than 80% of their home's value, tacking on additional monthly expenses.

Competitive Interest Rates

The VA guaranty gives lenders a greater degree of safety and flexibility, which typically means a more competitive rate than non-VA loans.

Increased Risk for Lenders

Without government backing, banks are taking on more risk which, in turn, can result in a less-competitive interest rate on your home loan.

Easier to Qualify

Because the loan is backed by the government, banks assume less risk and have less stringent qualification standards for VA Loans, making them easier to obtain.

Standard Qualification Procedures

Conventional options hold stricter qualification procedures that can put homeownership out of reach for some homebuyers.
VA Home Loan Benefits
Purchase Loans help you purchase a home at a competitive interest rate often without requiring a down payment or private mortgage insurance. Cash Out Refinance loans allow you to take cash out of your home equity to take care of concerns like paying off debt, funding school, or making home improvements.

VA Home Loan Limits
As of January 2020, if you have full entitlement, there is no VA mortgage loan limit. However, each county throughout the country has loan limits based on where you want to live. These are referred to as "county limits" and are based upon average & median home prices in a given area. These limits are very generous and change annually, so please reach out to Anthony for specific county info.

You have full entitlement if you meet either of the requirements listed below. At least one of these must be true. You have:

• Never used your home loan benefit, or
• Paid a previous VA loan in full and sold the property (in this case, you'd have your full entitlement restored), or
• Used your home loan benefit, but had a foreclosure or compromise claim (also called a short sale) and repaid us in full

You can use your remaining entitlement - either on its own or together with a down payment - to take out another VA home loan.

You may have remaining entitlement if any of these are true:
• You have an active VA loan you're still paying back, or
• You paid a previous VA loan in full and still own the home, or
• You refinanced your VA loan into a non-VA loan and still own the home, or
• You had a compromise claim (or short sale) on a previous VA loan and didn't repay us in full, or
• You had a deed in lieu of foreclosure on a previous VA loan (this means you transferred your home's title to the bank that holds your mortgage to avoid foreclosure), or
• You had a foreclosure on a previous VA loan and didn't repay the VA in full

Is the "limit" the amount I can borrow or the amount VA guarantees?
The VA-backed home loan limit refers to the amount he VA will guarantee (the maximum amount the VA will pay to your lender if you default on your loan). The VA does not limit how much you can borrow to finance a home.

Eligibility Requirements
The length of your service or service commitment and/or duty status may determine your eligibility for specific home loan benefits.

Purchase Loans and Cash-Out Refinance: VA-guaranteed loans are available for homes for your own personal occupancy. To be eligible, you must have a good credit score, sufficient income, a valid Certificate of Eligibility (COE), and meet certain service requirements.

Why does my COE say, "This Veteran's basic entitlement is $0"?
This line on your COE is information for your lender. It shows that you've used your home loan benefit before and don't have remaining entitlement. If the basic entitlement listed on your COE is more than $0, you may have remaining entitlement and can use your benefit again.

On your COE, in the table called Prior Loans charged to entitlement, the VA will list the amount of your entitlement you've already used under the Entitlement Charged column. Your entitlement can be restored when you sell your property and pay your VA-backed loan in full, or repay in full any claim the VA has already paid.

VA Funding Fee
The VA Funding Fee is paid directly to the Department of Veteran's Affairs and is the reason they can guarantee this no-money-down loan program. This fee is paid so that VA eligible borrowers can enjoy loan benefits such as $0 down financing and no PMI payments.

VA Funding Fee Chart
The Funding Fee is calculated by looking at 5 different factors: Loan amount, loan type (Purchase or Refinance), type of service, down payment (if any) and prior VA loan use. Take a look at the charts below to see how the VA Funding Fee varies based on these factors:
| | If your down payment is… | Your VA funding fee will be… |
| --- | --- | --- |
| First use | Less than 5% | 2.3% |
| | 5% or more | 1.65% |
| | 10% or more | 1.4% |
| After first use | Less than 5% | 3.6% |
| | 5% or more | 1.65% |
| | 10% or more | 1.4% |
The VA funding fee is a one-time payment that the Veteran, service member, or survivor pays on a VA-backed or VA direct home loan. This fee helps to lower the cost of the loan for U.S. taxpayers since the VA home loan program doesn't require down payments or monthly mortgage insurance.

Note: The VA funding fee rates for these loans don't change based on your down payment amount or whether you've used the VA home loan program in the past.

Who pays for which closing costs?
The seller must pay the following closing costs on your behalf (aka "seller's concessions"):

Commission for real estate professionals

Brokerage fee

Buyer broker fee

Termite report (very uncommon in Colorado due to our dry climate)

Additionally, all of the remaining closing costs can be negotiated as part of the purchase contract:

VA funding fee

Loan processing fee

Loan discount points or funds for temporary "buydowns"

Credit report and payment of any credit balances or judgments

VA appraisal fee

Hazard insurance and real estate taxes

State and local taxes

Title insurance (paid by seller 99% of the time)

Recording fee
Note: Per VA rules, the seller cannot pay more than 4% of the total home loan in seller's concessions. But this rule only covers some closing costs, including the VA funding fee. The rule doesn't cover loan discount points.

When is the VA funding fee paid?

It can be included or "rolled back" in to your total loan and it just becomes part of your monthly mortgage payment, or

You also have the option of paying the full fee out-of-pocket at closing

Will I have to pay the VA funding fee?
If you're using a VA home loan to buy, build, improve, or repair a home or to refinance a mortgage, you'll need to pay the VA funding fee unless you meet certain requirements. You will not have to pay a VA funding fee if any of the below descriptions are true:

Receiving VA compensation for a service-connected disability, or

Eligible to receive VA compensation for a service-connected disability, but you're receiving retirement or active-duty pay instead, or

The surviving spouse of a Veteran who died in service or from a service-connected disability, or who was totally disabled, and you're receiving Dependency and Indemnity Compensation (DIC), or

A service member with a proposed or memorandum rating, before the loan closing date, saying you're eligible to get compensation because of a pre-discharge claim, or

A service member on active duty who before or on the loan closing date provides evidence of having received the Purple Heart
You may be eligible for a refund of the VA funding fee if you're later awarded VA compensation for a service-connected disability. The effective date of your VA compensation must be retroactive to before the date of your loan closing.

How much will I pay?
This depends on the amount of your loan and other factors.

Do you Qualify for a VA Funding Fee Exemption?
Borrowers are exempt from paying the funding fee if they receive any disability payments from the VA or are considered at least 10% disabled. Your VA mortgage lender will work you to determine if you qualify.

Is the VA home loan program available to Surviving Spouses?
YES. In order to get a VA home loan as the surviving spouse of a Veteran, you'll need a Certificate of Eligibility (COE) to show your lender that you qualify for this benefit. Keep in mind that you'll also need to meet your lender's credit and income requirements to get a loan.

Additional VA Loan Programs
Interest Rate Reduction Refinance Loan (IRRRL): also called the Streamline Refinance Loan can help you obtain a lower interest rate by refinancing your existing VA loan. For information specific to this program, please visit the VA website.

Native American Direct Loan (NADL) Program: helps eligible Native American Veterans finance the purchase, construction, or improvement of homes on Federal Trust Land, or reduce the interest rate on a VA loan. For information specific to this program, please visit the VA website.

Adapted Housing Grants: help Veterans with a permanent and total service-connected disability purchase or build an adapted home or to modify an existing home to account for their disability. For information specific to this program, please visit the VA website.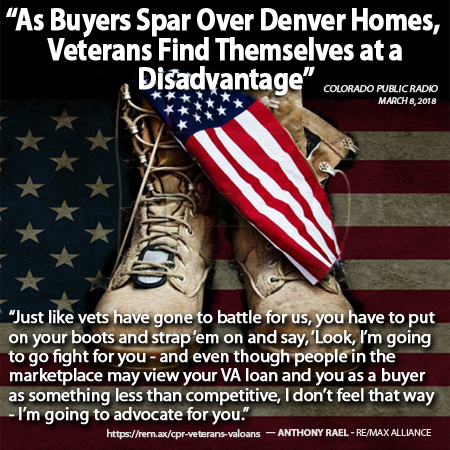 I created this image after an interview I did with Colorado Public Radio in 2018. I was discussing how Veterans can sometimes find themselves at a competitive disadvantage in a seller's market. If you know anything about the Denver housing market, it's been on a blistering pace since 2014 with low inventory levels and extreme buyer demand fueled by historic low interest rates. I simply cannot understand why some listing agents and sellers don't consider a VA buyer with $0 money down a viable option when bidding against cash buyers or financed buyers with 10 or 20% down. While having a big down payment is attractive, the goal is to get to closing and I have never had a VA buyer not make it to the finish line in my 16 year career. There are several factors to consider when writing a competitive offer in this crazy market. As an honest and trustworthy REALTOR who values and respects the dedication and sacrifice you have made to make our lives better, I am prepared to go to battle for you. I look forward to advocating on behalf of you and your family to secure a great home! Call Ants at 303.520.3179 and let's chat.

I would like to personally thank ALL of our Service Members, Veterans and eligible surviving spouses for your sacrifice to our country! I'm always grateful for the opportunity to help military families buy & sell homes in the Denver Metropolitan area. I work with retired military buyers and sellers & assist military families who are relocating or transitioning from active-service to various civilian employment with defense contractors such as Lockheed Martin, General Dynamics, Northrop Grumman, Boeing & Raytheon. I consider it an honor and a privilege to provide expert, professional real estate services to military families and I look forward to help you buy or sell a home. If you have any questions relating to pre-qualifying for VA Home Mortgage and finding a great home in the Denver metro area, call Anthony Rael at (303) 520-3179

Other VA Resources:

Are Veterans with VA Loans at a competitive disadvantage?
VA Office in Denver, Colorado
United States Department of Veterans Affairs
Federal Benefits for Veterans Booklet


Home Buyer's Guide |

Home Seller's Guide


Buy a Home | Find Your Dream Home | Pre-Qualifying for a Mortgage | Home Mortgage Loans
Homesnap App | First-Time Homebuyers | Relocation to Denver Colorado | Where to Live in Denver
Reliable Contractors | Honest & Trustworthy Advice | Community Resources | Active & Sold Listing Virtual Tours
Invest in Denver Real Estate | Sell a Home | Property Values | Denver Real Estate Market Reports
Colorado Realtor Reviews | Meet Anthony Rael | 'Just Call Ants' | Home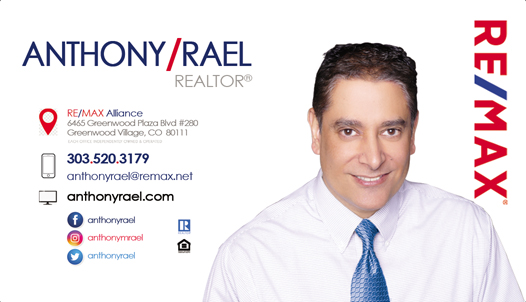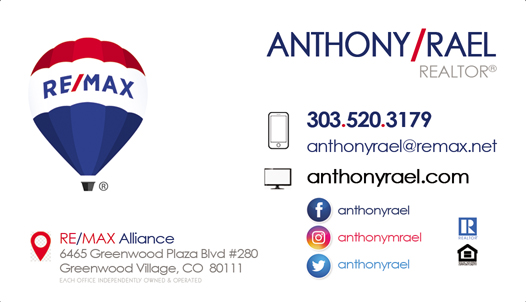 / RESIDENTIAL REAL ESTATE / NEW HOME CONSTRUCTION / RELOCATION / FIRST-TIME BUYERS / INVESTMENT PROPERTIES /




© 2005-2023 ▪ ANTHONYRAEL.COM | ALL RIGHTS RESERVED | PRIVACY | SITEMAP | HOME

Anthony Rael | REMAX Alliance - DTC | 6465 Greenwood Plaza Blvd #280 | Greenwood Village, CO 80111 | 303.520.3179
Licensed Colorado Real Estate Agent | Certified Negotiation Expert (CNE) | Seniors Real Estate Specialist (SRES)
AnthonyRael.REALTOR | HomesInColorado.info | SearchHomesInDenver.com | HomesForSaleDenverColorado.com

REMAX | RE/MAX, LLC | RE/MAX Rocky Mountain | RE/MAX Alliance | REMAX.com