100% Denver Colorado Performance Guarantee for Homebuyers!
In today's ultra-competitive real estate market, many agents try to lock you into a long-term agency or brokerage contract regardless of how well they perform, you're stuck. Not with me!
You deserve to be taken care of by someone who has an impeccable reputation of looking out for your best interests in a real estate transaction (whether buying or selling). I strongly suggest that you take some time getting to know your real estate agent & making sure you are confident in their abilities to find the right property, in the right community and negotiate the right price & seller concessions.
Personally, I spend at least two appointments with my potential buyers before determining if I want to work with them (and vice-verse). If and when everyone is comfortable, we can mutually agree to work together. I am not in the business of treating people like cattle and moving you through a fast-paced system solely designed to close quickly. Additionally, you will not be handed off to some other agent in my office or team to help you through the process. I am personally here for you every step of the way so the buck stops with me. I am not just helping people find a place to live (anyone can do that), I am building long-lasting personal relationships that help my clients maximize their investments, secure their future and realize the home of their dreams. Just ask my past clients.
I believe it's important for any homebuyer to fully understand that you are hiring us to represent you in a real estate transaction. This contract specifically details our duties & responsibilities as real estate brokers to you. After all, purchasing a home is one of the biggest decisions you will ever make, so please make sure you fully understand this contract and don't feel embarrassed to ask questions.
As your buyer's agent or transaction broker, I want you to have confidence in my ability to represent you in your next real estate purchase. I promise to exceed your expectations to ensure that you are completely satisfied every step of the way or you can terminate our buyer's agency contract. You'll have it in writing so there are no misunderstandings. By offering a high-degree of personal accountability, integrity, technical/marketing expertise and a sincere passion for delivering outstanding real estate services, you'll never have to worry about finger-pointing because the buck stops with me. I work with humility for the good of my clients, community, and fellow agents. Lastly, I am committed to transparency and authenticity.


Buy a Home | Find Your Dream Home | Pre-Qualifying for a Mortgage | Home Mortgage Loans
First-Time Homebuyers | Relocating to Denver Colorado | Where to Live in Denver
Reliable Contractors | Honest & Trustworthy Advice | Community Resources
Invest in Denver Real Estate | Sell a Home | Property Values | Denver Real Estate Market Reports
realtor.com Reviews | Meet Anthony | 'Just Call Ants' | Home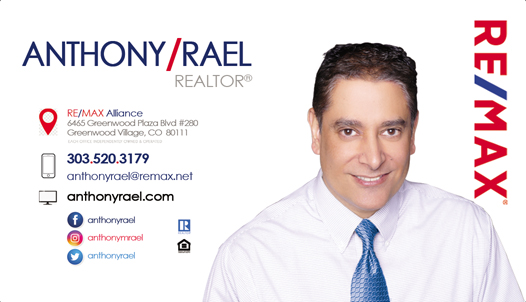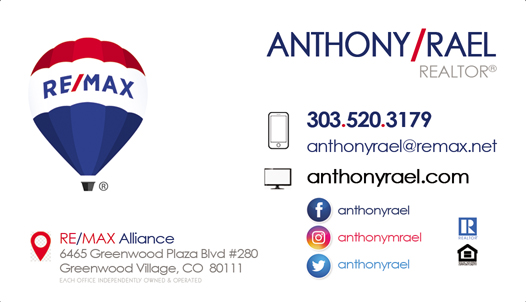 / RESIDENTIAL REAL ESTATE / NEW HOME CONSTRUCTION / RELOCATION / FIRST-TIME BUYERS / INVESTMENT PROPERTIES /




© 2005-2023 ▪ ANTHONYRAEL.COM | ALL RIGHTS RESERVED | PRIVACY | SITEMAP | HOME

Anthony Rael | REMAX Alliance - DTC | 6465 Greenwood Plaza Blvd #280 | Greenwood Village, CO 80111 | 303.520.3179
Licensed Colorado Real Estate Agent | Certified Negotiation Expert (CNE) | Seniors Real Estate Specialist (SRES)
AnthonyRael.REALTOR | HomesInColorado.info | SearchHomesInDenver.com | HomesForSaleDenverColorado.com

REMAX | RE/MAX, LLC | RE/MAX Rocky Mountain | RE/MAX Alliance | REMAX.com