Denver Colorado Real Estate Housing Stats & Market Trends Report


May 2019 Denver Metro Association of REALTORS® Market Trends Report


Single Family Homes | Single Family Condos | Residential Market | Luxury Market ($1Million +)
Denver CO Real Estate Market Snapshot & Infographics by Anthony Rael, RE/MAX Alliance
Amidst more housing inventory and increased days on the market,
Denver-area homes priced right are selling for top dollar.
In April, the average single-family sold home price in metro Denver hit a record high of $553,371 and reached a year-to-date high of $527,244. The average condo sold price in April was $368,565, up 2.62 percent from March and up 2.17 percent year to date. April ended with 7,012 active listings. In the past four years, active listings at the end of April were in the low 5,000's, so April is up 35.89 percent year to date compared to last year.
Metro Denver had 7,518 new listings hit the market in April, up 21.28 percent from March, and homebuyers actively purchased the new choices with 18.76 percent more homes under contract month over month.
For single-family homes, the months of inventory is 4.41, and for condos it is 3.24. Both the average and median days on market decreased from the previous month and year. The median days on market was 14 days in April, down from 21 days in March and 19 days in April of 2018. As the Greater Denver Metro area has grown, so has its homebuyer pool. The quantity of Luxury Market homes sold year to date in 2019 was similar to the previous year, 638 and 647 respectively. This is a drastic increase from 2015 to 2017 where the range was from 230 sold properties to 461, respectively.
The highest priced single-family home that sold in April was $8.5 million representing four bedrooms, eight bathrooms and 13,034 above ground square feet in Denver. The highest priced condo sale was $5,434,891 representing three bedrooms, four bathrooms and 3,816 above ground square feet in Denver.
The May 2019 DMAR Market Trends Report also includes statistics and analyses in its supplemental "Luxury Market Report" (properties sold for $1 million or greater), "Signature Market Report" (properties sold between $750,000 and $999,999), "Premier Market Report" (properties sold between $500,000 and $749,999), and "Classic Market" (properties sold between $400,000 and $499,999). In April 2019, 243 homes sold and closed for $1 million or greater – up 32.2 percent from March and 4 percent year over year. The closed dollar volume in the luxury segment year to date is already over $1 billion, up 1.61 percent from last year and up 41.47 percent from 2017.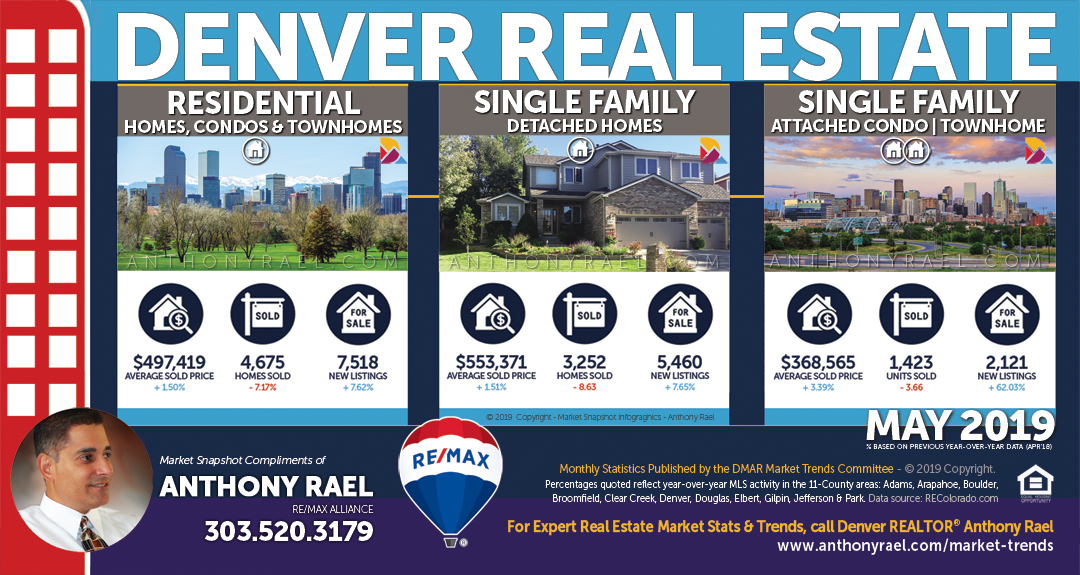 DOWNLOAD MAY 2019 DENVER REAL ESTATE MARKET TRENDS REPORT

Single Family Homes | Single Family Condos | Residential Market | Luxury Market ($1Million +)
Denver CO Real Estate Market Snapshot & Infographics by Anthony Rael, RE/MAX Alliance

Source: Denver Metro Association of REALTORS® Market Trends Committee #dmarstats
Infographics Courtesy of: Anthony Rael, RE/MAX Alliance

Archived Denver Real Estate Market Reports
Month-end Inventory, Average & Median Sales Prices, Days on Market (DOM), Price Appreciation, Sales Volume & More!

City and County Real Estate Market Reports
Denver Colorado Real Estate Market Statistics & Trends Reports - Main Index

May 2019 - Denver Colorado Real Estate Market Statisics & Trends Report
April 2019 - Denver Colorado Real Estate Market Statisics & Trends Report
March 2019 - Denver Colorado Real Estate Market Statisics & Trends Report
February 2019 - Denver Colorado Real Estate Market Statistics & Trends Report
January 2019 - Denver Colorado Real Estate Market Statistics & Trends Report
December 2018 - Denver Colorado Real Estate Market Statistics & Trends Report
November 2018 - Denver Colorado Real Estate Market Statistics & Trends Report
October 2018 - Denver Colorado Real Estate Market Statistics & Trends Report
September 2018 - Denver Colorado Real Estate Market Statistics & Trends Report
August 2018 - Denver Real Estate Market Trends Report
July 2018 - Denver Real Estate Market Trends Report
June 2018 - Denver Real Estate Market Trends Report
May 2018 - Denver Real Estate Market Trends Report
April 2018 - Denver Real Estate Market Trends Report
March 2018 - Denver Real Estate Market Trends Report
February 2018 - Denver Real Estate Market Trends Report
January 2018 - Denver Real Estate Market Trends Report
December 2017 - Denver Real Estate Market Trends Report
November 2017 - Denver Real Estate Market Trends Report
October 2017 - Denver Real Estate Market Trends Report
September 2017 - Denver Real Estate Market Trends Report
June 2017 - Denver Real Estate Market Trends Report
May 2017 - Denver Real Estate Market Trends Report
April 2017 - Denver Real Estate Market Trends Report
March 2017 - Denver Real Estate Market Trends Report
February 2017 - Denver Real Estate Market Trends Report
January 2017 - Denver Real Estate Market Trends Report
December 2016 - Denver Real Estate Market Trends Report
November 2016 - Denver Real Estate Market Trends Report
October 2016 - Denver Real Estate Market Trends Report
September 2016 - Denver Real Estate Market Trends Report
August 2016 - Denver Real Estate Market Trends Report
July 2016 - Denver Real Estate Market Trends Report
June 2016 - Denver Real Estate Market Trends Report
May 2016 - Denver Real Estate Market Trends Report
April 2016 - Denver Real Estate Market Trends Report
March 2016 - Denver Real Estate Market Trends Report
February 2016 - Denver Real Estate Market Trends Report
January 2016 - Denver Real Estate Market Trends Report
December 2015 - Denver Real Estate Market Statistics & Trends Report
November 2015 - Denver Real Estate Market Statistics & Trends Report
October 2015 - Denver Real Estate Market Statistics & Trends Report
September 2015 - Denver Real Estate Market Statistics & Trends Report
August 2015 - Denver Real Estate Market Statistics & Trends Report
July 2015 - Denver Real Estate Market Statistics & Trends Report
June 2015 - Denver Real Estate Market Statistics & Trends Report
May 2015 - Denver Real Estate Market Statistics & Trends Report
April 2015 - Denver Real Estate Market Statistics & Trends Report
March 2015 - Denver Real Estate Market Statistics & Trends Report
February 2015 - Denver Real Estate Market Statistics & Trends Report
January 2015 - Denver Real Estate Market Statistics & Trends Report


NOTES:
Interview requests from the media should be directed to DMAR's Marketing Communications at (303) 300-8490
MLS stats are tracked in arears, so the published report is for the previous month-end activity
The DMAR 'Premier Market' is defined as $500,000 to $749,999
The DMAR 'Signature Market' is defined as $750,000 to $999,999
The DMAR 'Luxury Market' is defined as $1,000,000 and over
11-Counties: Adams, Arapahoe, Boulder, Broomfield, Clear Creek, Denver, Douglas, Elbert, Gilpin, Jefferson & Park
Research: Denver Metro Association of REALTORS® Market Trends Committee



The DMAR Market Trends Committee, part of the Denver Metro Association of REALTORS®, provides timely, consistent, and relevant monthly summaries of valuable local real estate market statistical data for both its members and the general public. Statistics from the "Denver Metro Real Estate Market Trends Report" provide data for the following counties: Adams, Arapahoe, Boulder, Broomfield, Clear Creek, Denver, Douglas, Elbert, Gilpin, Jefferson, and Park. Source of the reported data is REcolorado.

Stats & Infographics Courtesy of: Anthony Rael, RE/MAX Alliance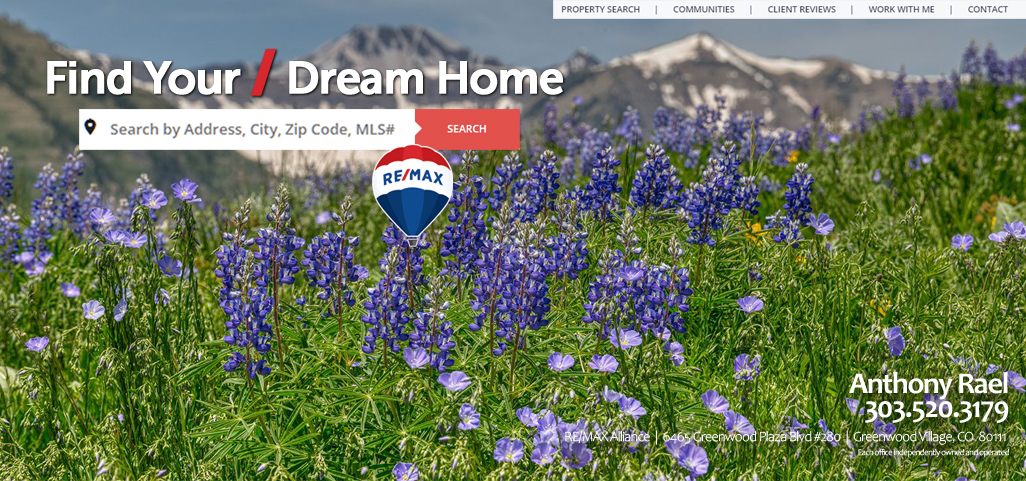 Media Coverage
Former Denver Metro Association of Realtors Market Trends Chairman Anthony Rael with RE/MAX Alliance is a trusted "go-to" real estate expert for local, regional and national media. Below is a list of recent media interviews with Anthony providing expert commentary. Below are a few of media interviews he's provided commentary on:

Colorado Public Radio - Climbing Denver Home Prices Finally Spark Some Building
Colorado Public Radio - Denver Home Prices Are Still Climbing. The Good News? Price Growth Is Slowing
HousingWire.com : Mile-high Appreciation & Mile High Appreciation
Colorado Public Radio - As Buyers Spar Over Denver Homes, Veterans Find Themselves At A Disadvantage
VeroFORECAST Predicts Continuing Strength in Housing Market : Top Markets Rising 10 Percent Over The Next 12 Months
Denver Business Journal : Denver area housing market to see big value increase in 2018: Report
Denver7 & TheDenverChannel.com : Realtors warn of potential security flaw at homes listed for sale
Denver Post : Denver, northern Front Range real estate party ends in late 2019, new forecast predicts
Denver Business Journal [Video] : Battles are fierce for bidding homebuyers in metro Denver
Denver7 & TheDenverChannel.com : Thieves breaking into Denver homes are using real estate lockboxes to do so
5280 Magazine : Denver's 2017 Real Estate Outlook
Denver Post : Denver area still lags in new home construction
Denver Business Journal : Metro Denver home inventory shortages persist as prices continue to grow
Denver Post : Metro Denver home prices slightly down, condo prices up in August: Rush on appraisals
Denver Real Estate Watch : Seasonal real estate peak
Denver Post : Home prices drop in metro Denver as affordability becomes an issue
Denver Business Journal : Metro Denver home prices continue strong gains
Denver Real Estate Watch : Record home price takes a breather
Worth Magazine : Influx of millennials creating exciting investment opportunities in Denver
Denver Post : Metro Denver sees a big jump in the inventory of homes for sale in June
Denver7 & TheDenverChannel.com : Finding a home for sale is hard to come by these days, but some have made it work
Denver Business Journal : Metro Denver home inventory up in June, but prices climbed faster
Denver Post : Denver median home sold price nears $400,000
CBS4 News : Denver's Housing Market Just Keeps Getting Tighter
CBS4 News [Video] : Denver's Housing Market Just Keeps Getting Tighter
Denver Post : Frustration rises as a fifth of Denver home sale deals fall through in April
Denver Business Journal : Metro Denver housing inventory hits record low for May
Denver Post : Inventory of homes for sale hits record low in metro Denver
9News Denver [Video] : Low inventory leads to creative home-buying tactics
Denverite : Do people move to Colorado for legal weed? Probably not, but no one knows for sure
Denver Post : Denver home sale listings jump 33.6 percent over record-low February
Denver Business Journal : Denver-area home prices continue to climb; low-priced inventory scant
Denver Business Journal : $20 billion in metro Denver home sales in 2015 and other records
Denver Business Journal : Denver home inventory continues climb in November, but so do prices
Denver Business Journal : Colorado home prices up 12 percent, but inventory up too
Denver Business Journal : Denver-area house prices up 11%, but slowdown could be in sight
Denver Business Journal : Colorado's home-price pressure eases with influx of new listings
Denver Business Journal : Is Denver's residential real estate market cooling off?
Denver Business Journal : Torrid metro Denver home-price pace to continue
Denver Business Journal : Passing $400K, average Denver-area house sale prices hit all-time high
Denver Business Journal : Metro Denver home supply down 32% in March from year ago
Denver Business Journal : Average home price in metro Denver tops $390K
Denver Business Journal : Denver metro home sales created a $22 billion impact in 2014
Denver Business Journal : Denver area home buying continues slowdown
Denver Business Journal : Residential real estate market softened in Denver during August
Denver Business Journal : Metro Denver homebuying hits $1.9 billion in monthly sales
Denver Business Journal : Buying a metro Denver home? It will cost you more than ever
Realty Today : Four Factors That Play Important Roles in Denver's Real Estate Market in 2016
5280 Magazine : Issues That Will Impact the 2016 Real Estate Market
MONEY Magazine : Buyers Guide: How to Beat the Competition in a Hot Housing Market
Denver Business Journal : Anthony Rael, Denver Real Estate Agent & DMAR Market Trends Chair
Colorado Springs Gazette : Colorado Springs' lower home prices lure frustrated Denver buyers
Kiplinger Magazine : Money-Smart Tactics to Prosper in This Hot Housing Market
Denver Business Journal : Anthony Rael, Denver Real Estate Agent & DMAR Market Trends Chair
TIME-Money Magazine : The Letter That Saved $11,000. Really.
Builder and Developer Magazine : Denver's Housing Market Just Keeps Getting Tighter
MSN Money : Millennials shift to buying as rents surge
DenverPost.com : Anthony Rael, Denver Real Estate Agent & DMAR Market Trends Chair
Glossary of Terms for Real Estate Stats
What is Median Sale Price?
What are Active Listings?
What are New Listings?
What are Sold Listings?
What is Pending/Under Contract?
What are Days on Market?
What is the Affordable Housing Index?
What are Months Supply of Listings?

[ RETURN TO MARKET TRENDS HOME ]
[ Investing in Denver Real Estate ]